Accredited Service Partners
Experience unmatched convenience by securing a service for your family cargo bike or ebike through our accomplished accredited partners. Revel in the ease of scheduling bike care at your convenience, tailored to your timetable. Our adept technicians, well-versed in their craft, will address your bike's requirements, ensuring top-tier performance. Bid farewell to logistical hassles as our experts come to you, offering transparent pricing and effortless online booking. Cherish quality moments with your family while we guarantee your bike remains in impeccable shape. Rely on our network of accredited service partners for adept, reliable, and family-oriented bike maintenance.
Accredited Service Partners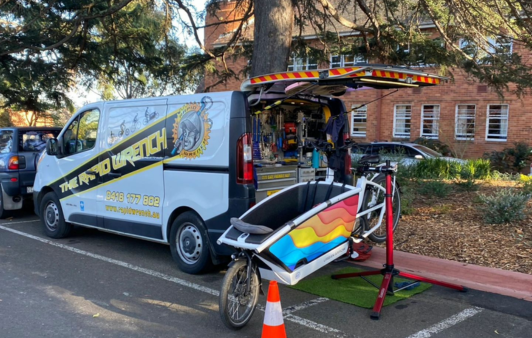 Workshop Melbourne
Discover the ultimate convenience by scheduling a service at our Moorabbin Headquarters for your family cargo bike or ebike. Benefit from streamlined booking and expert care tailored to your bike's needs. Our dedicated technicians provide specialized attention, ensuring optimal performance. Say goodbye to transport hassles – conveniently access our Headquarters. With transparent pricing and efficient scheduling, maintaining your bike is effortless. Spend more quality time with your family while we fine-tune your bike. Trust our Headquarters for reliable, expert bike maintenance, enhancing your family outings through hassle-free service, all in one accessible location.
Workshop Melbourne