There are so many reasons to jump on a bicycle, or cargo bike, not the least of which is the current sky-high gas prices. Although at one time, some were held back because it's just more difficult to do some things on a traditional bicycle, the rise of the
cargo bike
 has put those concerns to bed for good. Now, electric cargo bikes are the new family car, well at the very least, the new second car. With electric cargo bikes, there is little a car can do that a cargo bike cannot from taking the kids to school or soccer practice to loading up a week's worth of groceries or even heading to the ski hill for a few laps on the slopes. Aside from cost-effectiveness, electric cargo bikes are also fighting climate change and allowing for some serious bonding time with the family all at once.
Remember, when buying a cargo bike, nothing is more important to consider than your situation. The geography of your neighborhood and your regular trips might be a consideration in terms of the motor as some cargo bikes can manage very large loads others not as much. In addition, consider where you'll be able to store the bike. If you must store your cargo bike inside and potentially up a set of stairs or two, the weight and overall size of the bike is as important a consideration as anything else. There are also important considerations in terms of battery range, and of course, price. Electric cargo bikes are not cheap, but taking into consideration it could replace the need for a second car, and the price tag becomes a bit easier to swallow.
Here, we highlight six of our favorite electric cargo bikes for families — three long tails and three front-loading cargo bikes (also called bakfiets). We suggest doing your research, taking them out for a test drive, and making sure you consider the best purchase for your situation. You cannot go wrong with any of these electric cargo bikes. But there are differences. And best thing…At Dutch Cargo Bike we stock 4 out of the 6!
Front-loading electric cargo bikes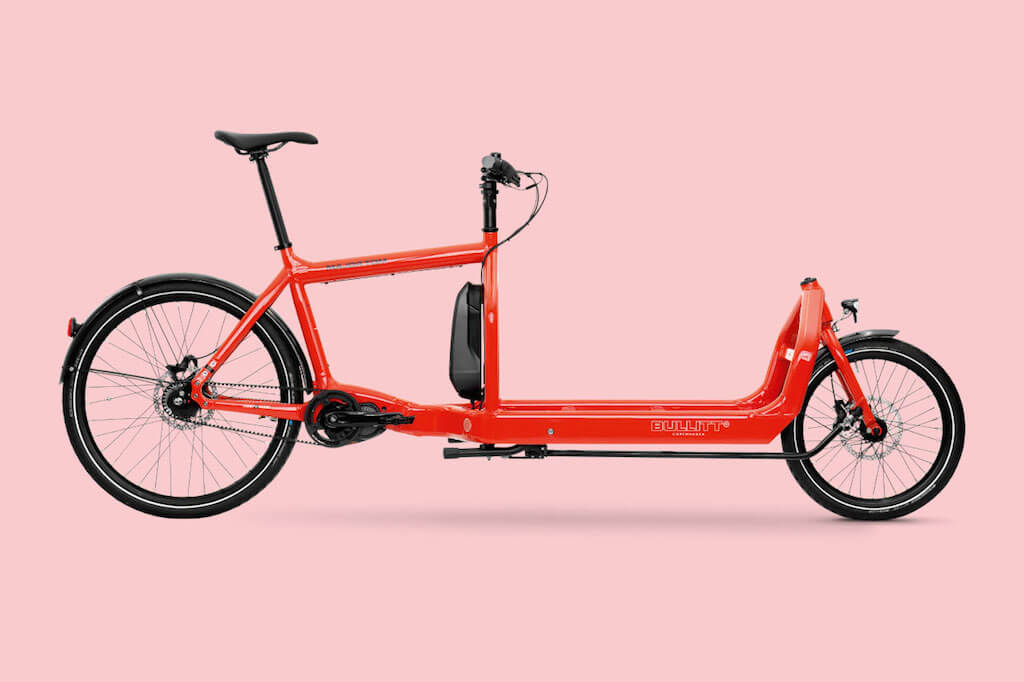 A popular choice for cargo bike messengers around the world, the e-Bullitt is a high-performance and lightweight cargo bike ideal for families in the city with a slew of safety features to keep your little humans or cargo safe and sound. The e-Bullitt features a Shimano Steps Battery 418Wh with 250W nominal power, 500W peak. 60nm of torque and a 418W battery for long rides (up to 180km). The battery can be removed and charged within one hour to 50 percent, two hours to 80 percent, and four hours 100 percent. We love the range with this battery. We also love the choice of internal gearing with belt drive or external gearing not to mention the 203mm hydraulic disc brakes. We also dig that its narrow width at 46cm, ideal for navigating city streets.
The most incredible thing about R&M is the high comfort it affords alongside a long-lasting battery and huge load-carrying capabilities as well as full suspension. It can go as fast as 28 mph thanks to a double-battery Bosch electric assist motor. R&M is safe and secure to convey kids, groceries, plants, or pretty much anything else and there are so many accessories for the cargo box. It also has a 440-pound carrying capacity. What we love is how easy the Load 60 is to maneuver. It's nimble, light, and quick thanks to some seriously advanced engineering. There are two integrated child seats and enough safety features such as the bright Supernova M99 tail lights and Tektro TRP C23 cargo brake to put us at ease. The downsides are the price point is considerable, and its downshifting is not automated.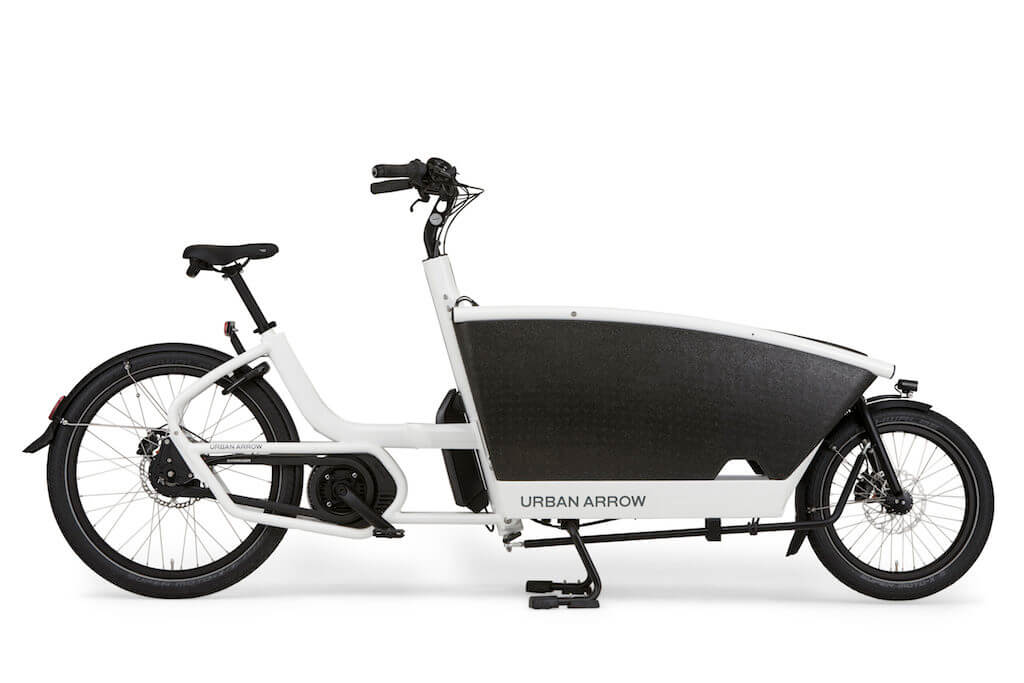 It has come to be known as the best electric cargo bike for families alongside the R&M Load. It has padded and comfy seating, a lower seat position for children complete with three-point seat belts, and its lightweight makes the front-loader very easy to maneuver. The Urban Arrow Family comes with loads of accessories and a continuously variable shifter that guarantees safety and stops the panic that comes with trying to downshift when going uphill carrying a serious load. The Urban Arrow tackles hills without any hassles with four levels of assist on its Bosch Cargo Line motor. We love that it is set up to carry as many as four passengers in its sturdy box, the downside being that it is 70cm wide and more than 270cm in length, which is a lot of bike — of course, Urban Arrow does offer a "Shorty" version. The capacity is a whopping 550 pounds. We also like the Selle Royal saddle with the handle at the back. The 500W battery with its 15-35 mile range could be better.
Long-tail electric cargo bikes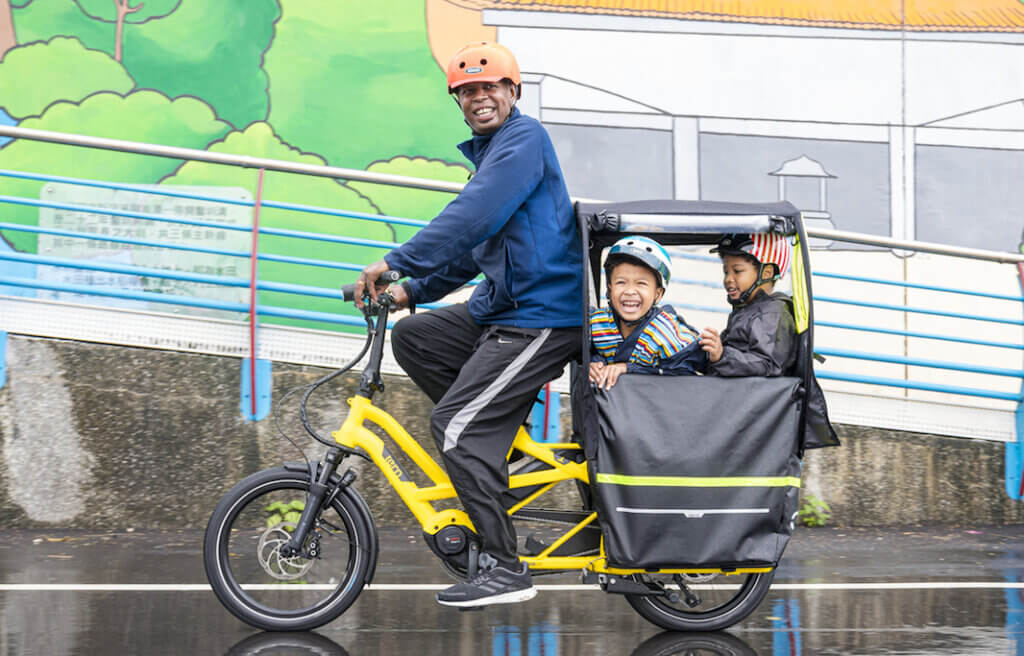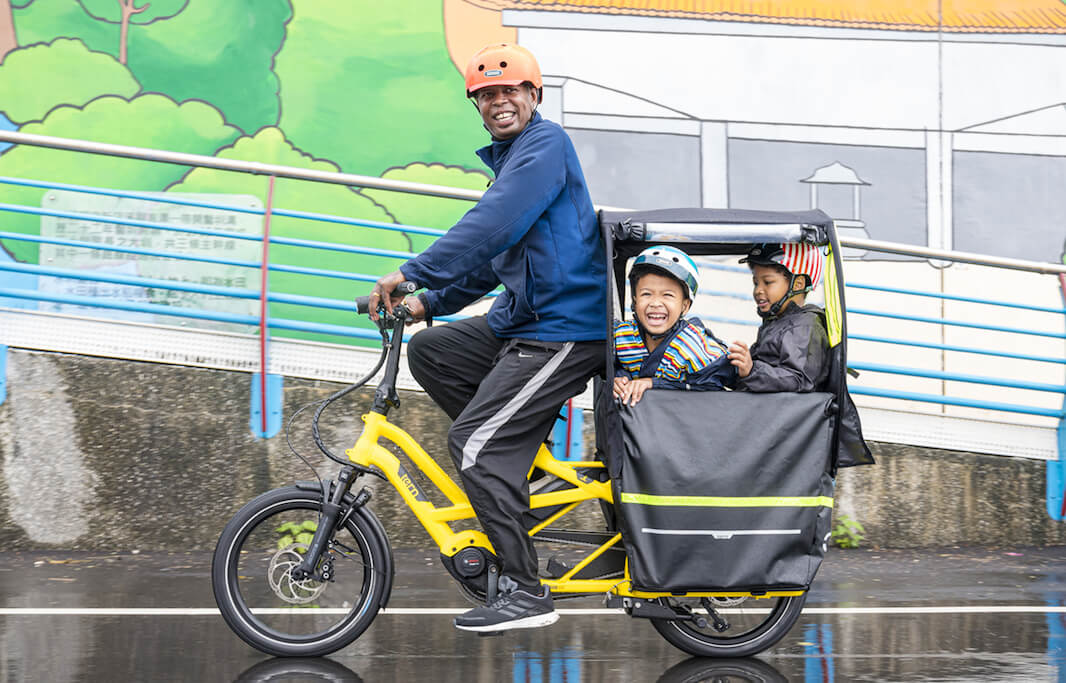 The GSD is designed to carry two kids, a week's worth of groceries, or 440 pounds of cargo, and is a very compact cargo bike at only 180 cm long—the same length as a standard bike. With Tern's best-in-class folding technology, it packs down small enough to fit in an SUV or a truck. It adjusts to fit riders from 150 – 195 cm—so multiple family members can share it. And, we just love how those clever folks at Tern designed the bike to park vertically, so those storing it indoors with limited space can ditch the fern and park their Tern instead. The belt-drive GSD has four levels of pedal-assisted power and can take you up to 20 mph (32 Kph) using the Bosch Performance system. The GSD is also loaded with extras, such as lights, rear rack, fenders, and has awesome accessories.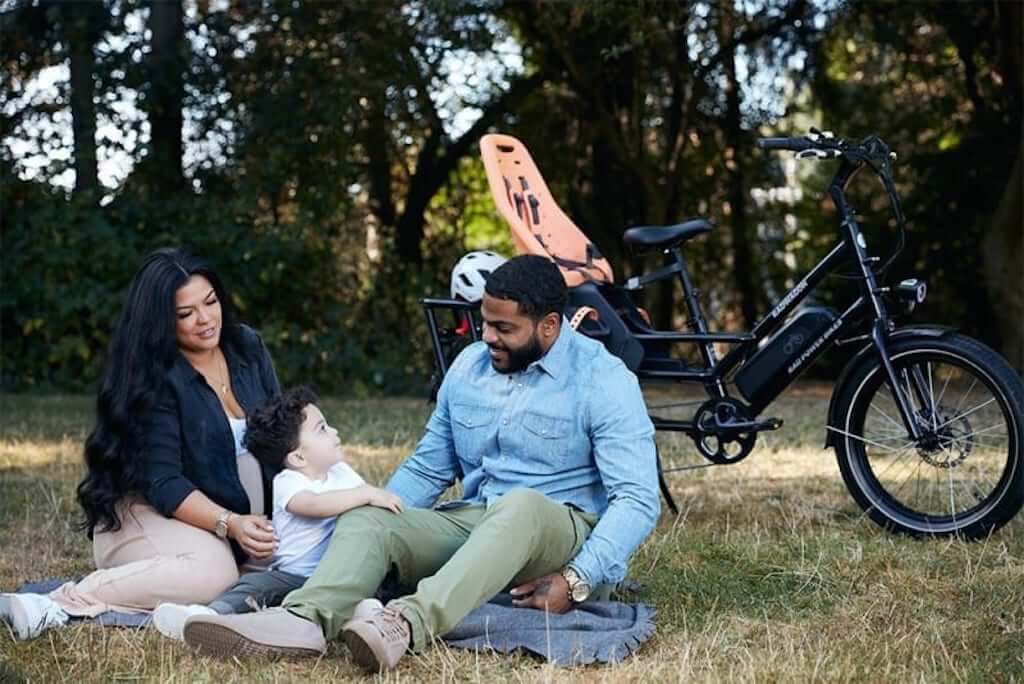 Rad Runner Power Wagon provides the best electric cargo bike bang for the buck. This long-tail cargo bike has a 750w geared hub motor and up to 45 miles on a charge. It is comfy to ride and its high-weight capacity of 350 pounds lets you haul extra cargo but not quite as much as some of the other cargo bikes on the market. There is room for two kids on the back and there are plenty of accessories from which to choose such as a caboose, deck pad, and running boards. As it is with all Rad Power Bikes, the Power Wagon is very affordable, especially when compared to similar models from other brands. The maneuverable handlebars, telescoping seat post, and smaller tires add up to a fairly easy and comfortable ride for a cargo bike.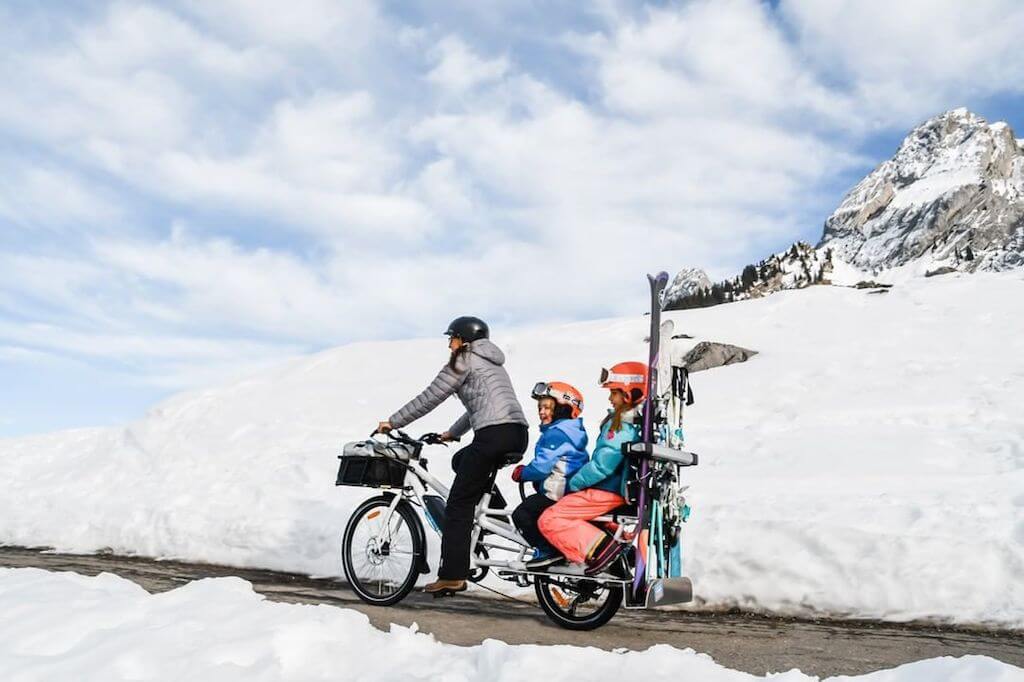 The Yuba Spicy Curry is a great all-around long-tail electric cargo bike for families. It's not nearly as expensive as some front-loader models but offers a great range of accessories that allows owners many possibilities for carrying people and cargo up to 400 pounds. What we enjoy is the height of the tail thanks to the shorter rear wheel is at a great level for kids to hop on and off for school drops, and it is easier for heavier loads. But, for riders over 6'2" it might be a little small. The Bosch CX 250W motor with 36V Powerpack 400 battery does the trick with a range of up to 60 miles and there is a "turbo" assist feature to tackle hills. The Yuba Bread Basket is a great accessory that mounts on the front of the bike. Yuba also introduced a ski rack for trips to the hill, amongst many other options. Great all-arounder at a good price.