Does this bike really need an introduction?
"As Copenhageners and old friends, Larry and Harry have always biked as much as they could. Harry was self-employed as a carpenter for 20 years where he used a 60-year-old Danish Long John cargo bike to get from job to job. Larry is an engineer and was busy working for another bike brand making the best cargo trike in the world.
The problem was Harry's vintage Long John was still faster, lighter and more manoeuvrable…That's when Larry and Harry, in 2007, decided to build the perfect two-wheeled cargo bike….
Original Harry VS Larry
The Original Bullitt frame is the natural progression in Danish cargo bike design and as Copenhagener's we ride every day, through all seasons. Larry vs Harry have been making the Bullitt and nothing but the Bullitt for well over a decade.
This time has been spent refining and improving what we see as the perfect do-it-all cargo bike. The Bullitt is a bicycle for everyone and everything.
Fast and easy to maneuver, the Bullitt's unique stiff, three dimensional frame construction and geometry ensure stability at speed and over a variety of surfaces.
Its slim cargo platform functions well in navigating narrow bicycle lanes and plays nicely when sharing the road with other road users.
The Bullitt frame and components have been built and tested to the highest standards currently available within the bicycle industry.
All our Larry vs Harry Original components and accessories have undergone rigorous test periods both pre production and have been tested over the past decade under some incredible circumstances.
The Bullitt Cargo Bike: A Love Story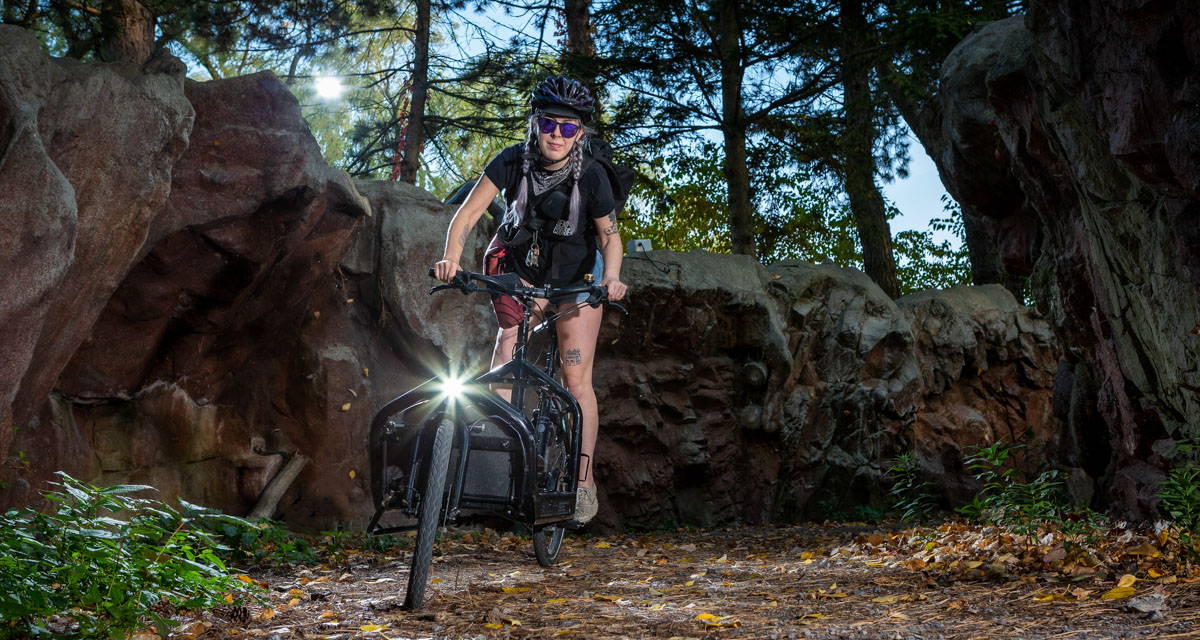 From the moment I first laid my eyes on the Larry vs. Harry Bullitt cargo bike, I knew I was in love. The bike is elegant and simple, modern and stylish. It's the design that made cargo bikes appealing to multiple demographics – from messengers hauling oversized packages to families hauling their children and other precious cargo – and I knew I needed one.
The Bullitt is designed by an interesting pair of cyclists. Larry (Lars) was a contractor and Harry (Hans) was part of another Danish company that specialized in cargo tricycles. The pair met and set out to build the perfect and sexiest cargo bike on the market. Their inspiration came from their love of late 60s and 70s American muscle cars. These cars are fast, sexy, and iconic but a glaring issue is their fuel economy and carbon emissions. The Bullitt was the brainchild of all their hard work, studying these iconic car designs to create the coolest, sexiest and fastest cargo bike in the world, a bike that can carry just about anything.
Frame Kit
The legendary Bullitt framekit, the start of your cargo bike project. Here's your chance to build a custom Bullitt that is dialled to your exact specs, or something you can stick all of those old parts you have sitting around in your garage – this is where it begins.
What comes with a Frame Kit?
Powder-coated in all BULLITT colors or raw aluminium
Prepared for derailleur gears or internal hub gear systems with the new replaceable dropout system.
Steering-rod and steering-arm
Kickstand
Front fork
2 FSA headsets
Human Powered Options
You can choose for a full bike, depending on your needs, we have 3 human powered options.
8 speed shimano alfine
11 speed shimano alfine with gates
20 speed deore shimano
Gearing, In or Out?
Internal
One cog, one chain and one chainring. With fewer parts, there is very little to go wrong, so this is the most reliable set up we offer.
With these fewer parts the maintenance is reduced. When the gear set is set up correctly and ready to use there is very little service. Internal hub gears can even be changed when the bike is stationary.
External
Sporty gearing option. If you are used to external gears and want
more efficiency when riding, this is the one you want. External gear systems offer the best power transfer.
There is less energy getting lost in space, so every bit of raw power you put into your pedals will be transferred almost directly into your forward momentum and getting you where you need to be. This is the most efficient type of setup.
Shimano Electric Assist – E6100 or EP8
The missing link between the car and a bike. The eBullitt, has the same strong, agile and versatile frame size of the Original Bullitt, but with the option of two powerful Shimano motors and long-lasting batteries, that making carrying and accelerating any cargo almost effortless
The eBullitt can take a huge amount of cargo. Using our 2 powerful Shimano motors, getting a boost off the line, up steep hills, or over long journeys can make carrying any cargo a breeze.
The Shimano system provides up to 100km* of power assist. The battery can be removed and charged within 1 hour to 50%, 2 hours to 70% and 4 hours 100%.
E6100
60 Nm of Torque
The 6100 motor offers the same flexibility in gearing and adaptability as the Bullitt itself, choose between internal 5 and 11 speed options or a derailleur based 11 speed external system.
‍
250watt with 60 newton meters of torque to bring you quickly and effectively up to speed. The Shimano Steps 6100 motor is one of the smallest and lightest offerings on the market weighing just 2.8 kg. Beautiful integration with shimano's industry leading crisp gear shifting and smart firmware support via Shimano's Bluetooth compatible etube platform.
Motor Assistance up to 25 kmph in accordance with AU Law
EP8
85 Nm of Torque
The EP8 is the result of many years development and brings Shimano's wealth of experience in cycling engineering into a small, powerful and fantastic functioning flagship eBullitt. Booth massively powerful and beautifully engineered, the engine provides a fantastic and naturel transfer of power, just when you the rider require it.
250watt with an incredibly grunty 85 newton meters of torque, the EP8 represents the pinnacle of electrically assisted bikes and it's strength makes it a fantastic contender for cargo riding. Less drag due to a change in seals and software updates from previous iterations, the EP8 rolls smoothly and incredibly efficiently. Coupled with fantastic shifting courtesy of XT Di2, the electronic gears change with precision and low maintenance time and time again.
Motor Assistance up to 25 kmph in accordance with AU Law.
New Colours
With new names and colours, you can personalise your bike even more. What do you think of MOONDOG or the NEW LIZARD KING! All these are in stock for the frame kits and human powered bikes. Limited availability only, so we suggest to contact us and check the latest stock levels!
Accessories
Make you bike into the Cargo Carrying machine that suits your lifestyle. If its goods, kids or dogs, there are many accessories available to change the bike into what you need.Think panels and floorboard to make a box. Child seat & canopy. Box and billboard. Or build up your own creation on a floorboard! The possibilities are limitless.
Conclusion
The Bullitt cargo bike has always been and continues to be the most flexible solution available. Built to last, fast, fun and strong, the Bullitt is more than just a machine and is loved by families, bicycle messengers, businesses and adventurers around the globe who use it daily for all their transport requirements.Whether you want to transport your family, gear, or use it for your work. We are very proud to represent them in Australia. Stay updated on their arrival by subscribing to our newsletter, or contact us directly.